Oculus Eyewear is lucky to work with amazing clients from around the world.
We appreciate being able to work with Lucia LaVilla-Havelin. She is a lover of Theo and has a sizeable eyewear collection.
We interviewed Lucia to find out more about her style as an artist and here's what she had to say...
Oculus - Tell us about where you're from and how that has influenced your artwork?
Lucia - I am originally from Rochester, New York where I lived until my mid-30s.  I was a working artist there, but also a curator of an exhibition that traveled in Africa under the auspices of USIA.  Before we left Rochester, I was the creator and director of a large art center.  Naturally working with all the artists had an influence on me.  In 1986 we spent over 6 years in New York City, then to South Texas for the last 28 years.  In New York, we were surrounded by the art world which is so inspiring.  I was the Associate Director of Pace Primitive Art at Pace Gallery on West 57th Street, so I worked around many famous artists.  The chance to see so many art exhibits and go to some of the best museums in the world was fabulous.  We moved to San Antonio in 1995, lived in Alamo Heights for 10 years, and now in a rural area in Lytle, 25 miles Southwest of San Antonio.  Nature here has had a great influence on me.  I have always loved cacti and succulents, trees and animals.  You can see all of these in my work.  I think I must have been a Native person in the South West in some other life time! 
Oculus - What motivates you to create?
Lucia - I don't need specific motivation or push to create.  I am obsessed with working on my art, and rare is the day I don't spend several hours on it.  I like to work in series, many times with a narrative theme, and most often I have the next idea before I am finished with a piece.  Sometimes I just see an image in my mind and that sparks a new series.
Oculus - What is your favorite medium to create with and why?
Lucia - I work exclusively in hand embroidery, using cotton floss thread stitching into linen.  I started out as a weaver in the 70s.  Then various health issues intervened and I could no longer work at a big loom.  I started doing one-of-a-kind petit-point pieces, a form of small stitch needlepoint.  To those I sometimes added beading and other elements.  At one point I turned them into sculpted marine creatures.  Currently I am just embroidering, each piece depicting a story I want to relate.
Oculus - Who are some artists that influence you?
Lucia - Major artists influence me are Henri Matisse, Mark Rothko, Claude Monet, Cy Twombly and Georgia Okeeffe.  Two textile artists whose work moves me are Diane Itter and recently Diedrick Brackens.  If you don't know these artists, one of their major influences on me is the use of color.  I think that is one of the hallmarks of my work.
-
Lucia has been a working artist for over 40 years, pushing the boundaries of stitchery, using traditional "women's work" in unexpected ways, while addressing contemporary subject matter. All work is designed and hand-stitched by LaVilla-Havelin.
She has had numerous solo exhibitions in both Texas and New York State. Her work has been exhibited nationally in invitational and juried shows, including in Arizona, Brooklyn, California, Maryland, Ohio, Oregon, Tennessee, Virginia and most recently at the Indianapolis Art Center in "Women's Work".  She is represented by Studio Comfort Gallery in the Hill Country of Texas, @studiocomforttexas.
Images of LaVilla-Havelin's work have been published in American Craft Magazine and Surface Design Journal. Her artwork can be found in over 40 private collections throughout the United States. 
Check out her work on her website www.lucialavillahavelin.com or shop her online exhibition.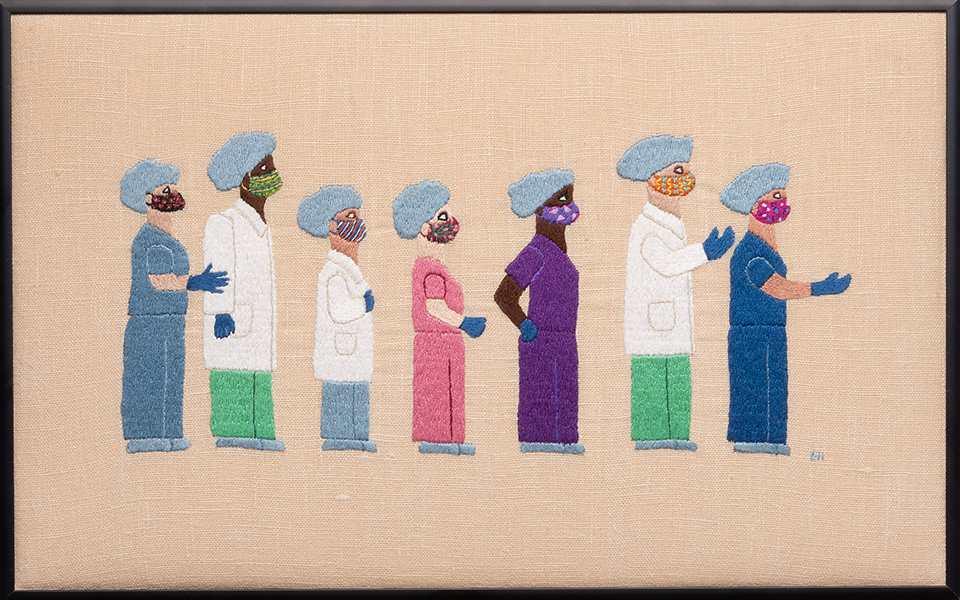 A MAGNIFICIENT SEVEN
2020
hand-embroidered cotton floss on linen fabric
10" x 16"